As summer approaches, we asked Jill Halpin, founder and "Chief Beach Officer" of the My Michigan Beach website, to share some of her favorite beaches in the Great Lakes State, in an effort to reveal some hidden gems.
Beach: natural beauty
"One of the most beautiful natural beaches is nestled on Lake Huron in Negwegon State Park in Ossineke," says Halpin.
Negwegon is not easy to get to, and that helped keep the beach pristine. The state park is home to approximately 4,000 acres of undeveloped land, crisscrossed with hiking trails, and approximately six miles of shoreline. Visitors should follow a sandy two-lane road to the park entrance (a four-wheel-drive vehicle is recommended). A paved parking lot is located near the beach
"From there it's about 50 feet to one of Michigan's most beautiful natural waterfronts," says Halpin.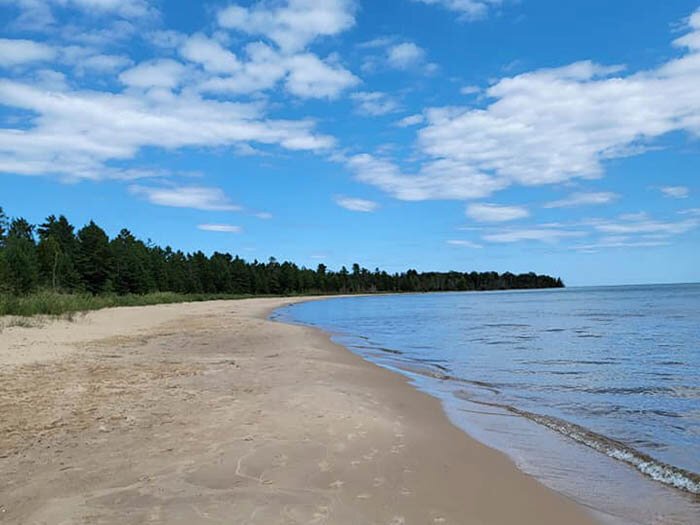 Secluded beach in Negwegon State Park.The beach is located on a shallow bay; the water is crystal clear and shallow, which helps it heat up faster in the sun. This is a very rustic park, so don't expect a "Silver-Beach-in St.-Joe" type experience. The beautiful scenery and tranquility more than make up for the outhouses.
"If you go there and you like it, don't tell anyone else," jokes Halpin. "Let's keep it a secret. »
Beach: Sunset
For a gorgeous sunset, Halpin's pick is Elberta Beach on Lake Michigan, just south of Frankfort. The beach starts at the pier and stretches south for about 800 meters.
"You'll find a beautiful Lake Michigan beach with a view of the Frankfort Lighthouse in the distance," says Halpin. "You can watch the sunset from the cliffs or walk down to the beach below."
When the sun sets there, "it lights up the sky with the most beautiful colors of pinks and oranges. It's peaceful too, because it's breathtakingly beautiful and the cliffs at the tops dampen all noise except water," she says.
From her experience as a travel writer, Halpin knows that sunsets "are important in Michigan. "One of our most popular articles recently is a list of unique places to watch the sunset in Michigan."
Beach: Dogs
Many beaches allow dogs on a leash, but only a few hard-to-find beaches allow dogs to run free. Halpin's pick is Zoll Street Beach in Harbor Springs.
"It's one of my favorite beach categories because we take our Beagle-Basenji mix, Sugar, with us everywhere," she says. "I mean, what good is a perfect beach day if your pup isn't there to share it with you?"
In Zoll Street, dogs are allowed to run free and socialize with other dogs.
"Zoll Street Beach in Harbor Springs is my favorite," says Halpin. "It's such a happy place. It's clean, friendly, and has a wonderful location on Lake Michigan's little Traverse Bay."
Beach: Sand dunes
All the beaches in Michigan's dune areas are spectacular: Saugatuck, Silver Lake, Sleeping Bear, Ludington, Port Crescent in the Thumb and many more.
But one of Halpin's favorites is Grand Sable Dunes on Pictured Rocks National Lakeshore in the Upper Peninsula. The Grand Sable dunes rise approximately 300 feet and offer spectacular views of Lake Superior.
"It's a place that for me really captures the magnificence of Lake Superior," says Halpin. "Looks like it lasts forever."
The rocks pictured are so much more than the beautiful sandstone cliffs you see in the photos," she adds. "It's also filled with surprises like this."
Beach: Families with children
Jean Klock Park in Benton Harbor is Halpin's pick for families with kids — it offers a gorgeous beach with more than a half-mile of Lake Michigan waterfront.
"Everyone knows St. Joseph is a great family-friendly beach town, with this awesome kiddy pool and Curious Kids Museum," Halpin says. "Silver Beach is amazing, but sometimes I like to go where it's a bit more laid back, so we head to Jean Klock Park."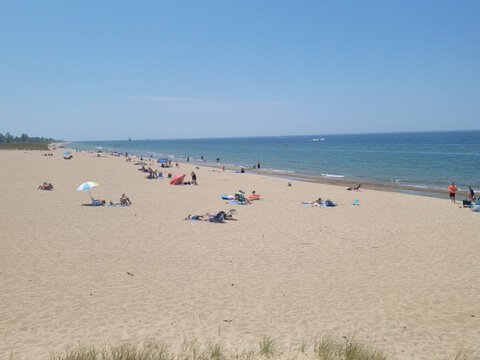 Jean Klock Park Beach in Benton Harbor.
Halpin says the park is well maintained and clean with a fabulous view of the North Pier Lighthouse in Tiscornia Park. There are also concessions, a playground, a picnic shelter, volleyball courts and a boardwalk. It's a wide beach with convenient parking for people lugging all their gear.
"This is one of the most underrated beaches on Lake Michigan, in my opinion," says Halpin.
Beach: Sunrise
Another underrated beach is Oscoda Beach Park, right in downtown Oscoda on the shores of Lake Huron in northeast Michigan.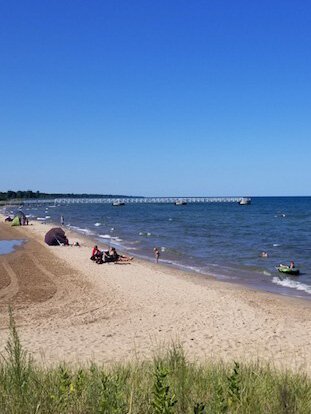 A view of the pier at Oscoda Beach."It's an amazing place, with wide grassy areas for picnics, a wide sandy Lake Huron beach, and amazing ADA access via wide boardwalks," Halpin says.
The beach also offers volleyball courts, a skateboard park, a basketball court and a large playground for children. The beach on either promenade is great for watching the sunrise.
"You can also walk to the pier that extends into the water and watch the sun rise from there," says Halpin. "It's one of my favorite places.
Beach: Stone Hunters
Halpin's suggestion for the kind of rocky beach rock lovers seek, in a unique setting, is Rockport State Recreation Area in Alpena.
Located on the shores of Lake Huron north of Alpena, the property includes a former limestone quarry of approximately 300 acres. Although the rocks here aren't the water-smoothed stones of some of the Great Lakes beaches, raw fossils abound among the rock piles.
Rockport is Michigan's 100th state park. The 4,237-acre park also includes a protected deep-water harbor with a boat launch and picnic areas.
Beach: Lake Erie
William C. Sterling State Park is best known as Michigan's only state park on Lake Erie.
The 1,300-acre park, about an hour south of Detroit, is ideal for families, offering paved walking paths, hiking trails, and more than a mile-plus-long beach. The park is also popular for shore fishing, boating, and wildlife viewing. Facilities include a playground, restrooms and picnic areas
"The beach here is big and clean," says Halpin.
About the Beach Expert
In the three years since My Michigan Beach was founded, the website has become one of Michigan's most popular travel sites.
Founder Jill Halpin is a former journalist and librarian who grew up in Plymouth, Michigan, and spent her childhood summers on the beaches of Lake Huron.
"Friends and other family members also had summer homes in the state, so I spent a lot of time throughout my life exploring other people's beaches," she says.
"I love the water, and whether I'm swimming or cruising my little racing dinghy, I want to be in it or on it. All of our Michigan beaches are so beautiful and different and they change every day…that's what makes them so special.

Jill Halpin, creator of My Michigan Beach.
Her love for the waters of Michigan led her to start the website when she realized there were so many people, even those who live in Michigan, who have no idea how beautiful it is. natural to the state.
"I was sharing photos from Michigan with a relative in California, and she was so amazed to learn that my beautiful beach photos were actually from Michigan," Halpin said. "I realized I had seen that surprised look from other friends and relatives who were shocked to find out how beautiful our state is."
My Michigan Beach launched in late 2019, shortly before the pandemic hit.
"While you might not think it was the perfect time to launch a site, it turned out great because people stayed home and surfed the web, looking for places to go whenever they wanted. could travel safely again," said Halpin. "The site has really taken off thanks to a team of good writers, strong search engine optimization, and a great theme. Our writers know Michigan and love it as much as I do; I think that's okay. We try to process every room as if we were sharing something we love with a friend.
My Michigan Beach has become Michigan's largest independent travel information website, with approximately 150,000 to 200,000 visitors per month. An online My Michigan Beach store offers t-shirts, sweatshirts and similar items "so people can represent their favorite beaches in Michigan," says Halpin.
"We have expanded from the beaches and are also moving inland; now our coverage includes everything related to Michigan travel. During Covid we have made sure to include up to date information on travel restrictions on every page.
Halpin said writers have been monitoring rising lake levels and some beaches that were closed in 2019 are now starting to reopen since the waters began to recede.
"We make sure to note that information," she says, "or even, unfortunately, remove a range…hopefully, temporarily."
Halpin says she includes information she would like to know as a traveler: where do the locals go, what are some of the important things about this place, and can I bring my dog?
"Another thing that's really important to me is ADA accessibility to our beaches: everyone should have access to our beaches, so we try to include accessible travel information when we can," Halpin says. "It should be noted that many places in Michigan are adding accessibility mats that lead into the water, and some beaches also have crawler wheelchairs and beach wheelchairs. I love seeing communities come together to support accessibility projects.
Halpin predicts that we will continue to see an increase in travel to Michigan for the summer and fall. "Fall travel is huge in Michigan; it was actually bigger than summer for us," she says. "We are also seeing increased interest from out of state: Texas, California and Missouri, as well as Ohio and Indiana."