DARWIN, Australia — A fleet of warbirds, including US Marine Corps and Air Force fighters in Australia for a three-week air power exercise, wowed locals and vacationers during a flight over the beach on Thursday afternoon in Australia's Northern Territory.
The planes flew over Mindil Beach, a popular tourist spot in Darwin, which hosts a rotational force of 2,200 US Marines between April and September each year.
Thousands turned out for the event in a city full of visitors drawn to the Northern Territory's warm climate during the Southern Hemisphere winter months. It was a sunny 91 degrees Fahrenheit during the flyover.
This month and next, Darwin is also hosting U.S. Airmen and Marines participating in Pitch Black, a biannual exercise that includes 2,500 service members and more than 100 aircraft from 17 nations flying day and night missions between Aug. and September 8.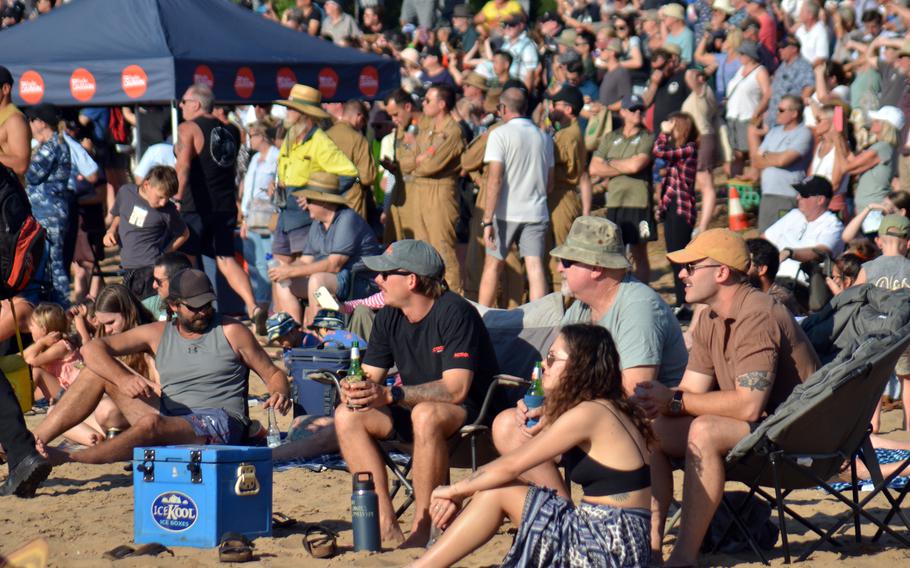 Airmen from many countries involved in the exercises joined the crowds watching the air show from the beach.
The stars of the flyby included a Royal Australian Air Force F-35A Lighting II conventional stealth fighter and a pair of Marine Corps F-35Bs, capable of short takeoffs and vertical landings.
The Marine Corps stealth fighters performed a half-hover with their landing gear extended as they hovered low past the crowd before zooming out of view.
F-35Bs and Airmen from Marine Fighter Attack Squadron 121 based in Iwakuni, Japan take off from RAAF Tindall, just south of Darwin, during Pitch Black.
The Marines also showed beachgoers an MV-22 Osprey, the helicopter-aircraft hybrid that can hover and then tilt its rotors and fly on fixed wings farther and faster than helicopters.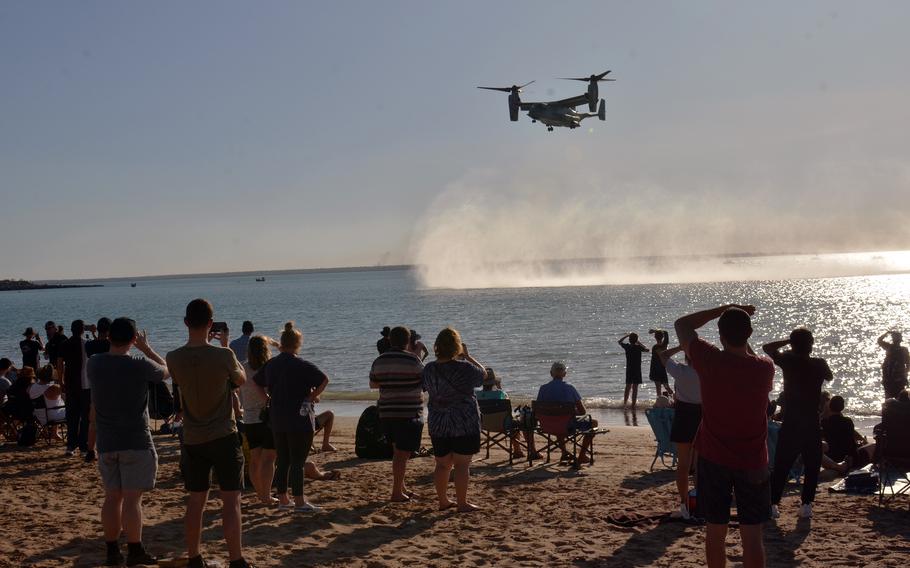 The Osprey hovered close to shore as onlookers on the beach took photos of the plane and posed for selfies with it in the background.
Marine Medium Tiltrotor Squadron 268 from Kaneohe, Hawaii is part of this year's Marine Rotation.
Navy Captain Trent Laboda, 28, an Osprey pilot in Darwin with the Rotational Force, watched the spectacle.
"I don't know if I've ever been to an air show where an Osprey went," he said.
The Air Force brought two F-15C Eagle fighters to the beach party. Planes circled offshore bathed in the light of a brilliant sunset.
F-15Cs and airmen from the Okinawa-based 67th Fighter Squadron left RAAF Darwin this month.
The flight over the beach included an Indian Sukoi SU-30MKI Flanker, German and British Typhoons, a French Dassault Rafale, a Japanese F-2, Indonesian, Singaporean and South Korean F-16 Fighting Falcons and several other aircraft.
One of the locals taking part in the action was Drew Daniell, 49, a seaplane pilot whose job is to fly workers and equipment to pearl farms in the Northern Territory.
Daniell brought his daughter, Madison, 14, to check out the plane.
"Where can you stand on the beach and bring down an F-35 and you can almost touch it?" He asked.
The grand finale involved an Australian F-35A, which screamed above the crowd with glowing afterburner and performed a 10-minute aerobatic display before soaring above the horizon.