Sinkhole appears at Limestone Coast tourist spot as holidaymakers urged to avoid unstable cliffs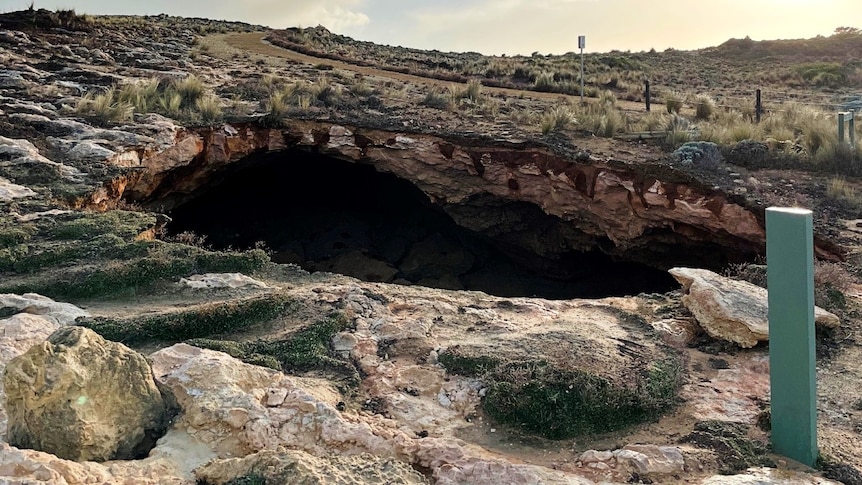 Holidaymakers flocking to coastal areas over the long weekend have been urged to stay away from the choppy cliffs after a huge hole opened up on South Australia's limestone coast without warning.
Key points:
Coastal erosion researchers use drones to map areas of potentially dangerous cliffs
Coastal areas can suddenly collapse without warning at popular beach destinations
Stormy seas and heavy rains contributed to the collapse of the Robe coast
The hole – the size of half a tennis court – suddenly appeared along the coastline of the popular tourist town of Robe.
People are advised to avoid the hole as it is still collapsing and the waves are scouring the cliffs below.
Robe District Council chief executive James Holyman said the hole, which is near the area's existing vent, is the result of coastal erosion.
"We live on a rugged coastline," he said.
Mr Holyman said the council was trying to keep people away from risk areas along the coastline.
"There is no warning when these things give way," he said.
People urged to stay away
Mr Holyman acknowledged that some people might be tempted to take a peek at the new hole, but urged spectators not to venture inside the cordoned off area.
"If people want to check, stay out of these marked areas," he said.
"It's quite low and the Southern Ocean is quite choppy with big rollers [waves] get into that.
Patrick Hesp, a coastal studies expert at Flinders University, said these holes could appear at any time and would be the last place anyone wants to be.
He said the limestone cliffs in the Robe region were 200,000 years old and unstable.
"A lot of them are either official coastal paths or unofficial paths where people have just made paths to the coast," Professor Hesp said.
"A lot of them are along these cliffs because of the great views, good fishing, but several places are relatively dangerous."
Professor Hesp said heavy rains and heavy ocean swells this week would have contributed to the limestone collapse in Robe.
He said it was difficult to predict when these holes might occur.
"But in the sandy soils of this region, it is quite difficult to spot cracks if they are present.
"We have been doing a study for Robe Council on beach erosion and cliff erosion in general since the late 1940s.
"We continue to use drones and monitor shoreline changes in places along the coast."
Council seeks further advice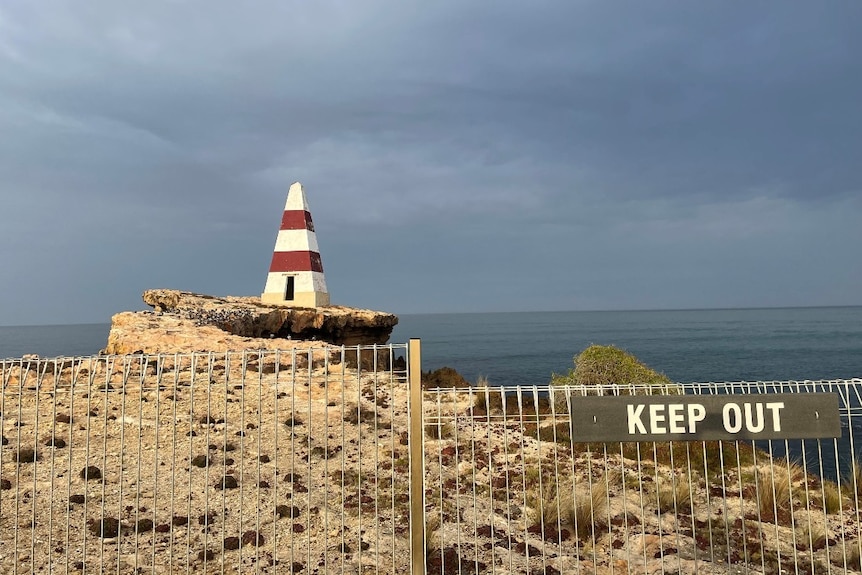 Mr Holyman said council would now seek further advice given the potential danger to the public, including whether to back off the coastal path.
"There are places around this area where there are holes that have gone through. So it's just natural erosion," he said.
"We also track, for example, the obelisk. We have a series of photos over time of the obelisk."
Mr Holyman said you could see how the area was weathered and the ocean eroded.