Known for its abundant water recreation, Florida is home to many lakes and other bodies of water due to its strategic location along the Gulf of Mexico. Low and flat, the state's highest point, Britton Hill, is only 345 feet above sea level. Among the many lakes, reservoirs, marshes, springs, streams, islands, beaches, swamps and rivers located in the United States, Lake Talquin is worth visiting.
Talquin Lake History
The product of the erection of the Jackson Bluff Dam in 1927, intended to generate hydroelectric power in the region, this lake located on the Ochlockonee River takes its name from the combination of the terms of the two cities between which it is located, Tallahassee and Quincy, thus forming the word Talquin. The land was donated in 1970 by the Florida Power Corporation to become what is known today as Talquin Lake State Park.
Today, the Florida Park Service manages the property covering nearly 526 acres to provide public recreation and help preserve the area and its resources.
Geography of Lake Talquin
Covering over 8,856 acres, this man-made freshwater reservoir, located 11 miles from Florida's state capital, Tallahassee, is an exceptional premium fishery suitable for any angling enthusiast. With an average depth of between 15 feet at its lowest and 40 feet at its deepest, in addition to 10 public boat ramps and seven public fishing piers, the lake is highly accessible to the public and easy to navigate by its visitors. The area surrounded by hills and deep ravines has little vegetation but compensates with lots of logs and tree stumps. In addition, the climate is generally temperate throughout the year, with lows of 18°C ​​in January and highs of 31°C in August.
Two main hiking trails are within the state park. First up we have the Talquin Lake State Park Trail, also known as the Loop Trail, which is nearly 1.6 miles and takes an average of 25 minutes. Although the course is well maintained, some areas can get muddy, so wearing waterproof shoes is a good idea to avoid ruining your favorite pair of trainers.
There may not be many viewpoints along the way, but visitors will be able to observe the diverse wildlife and beautiful wildflowers of the area.
Another famous trail is the one to the observation deck at Lake Talquin State Park, which is only an 8-minute hike.
Wildlife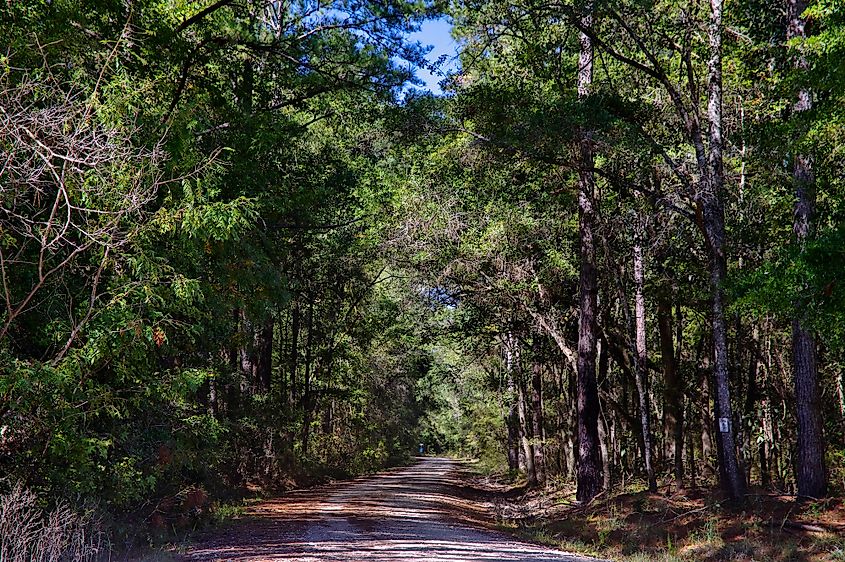 Calling all wildlife enthusiasts!
Anglers, bird watchers, wildflower enthusiasts, and general animal lovers will be delighted to experience the diversity of the state park while enjoying a fun-filled day around the lake. This is a great place to observe and search for wildlife such as deer, squirrels, turkeys, quail, birds, and even the occasional bear. As for the aquatic part, alligators, turtles, water snakes and many fish such as golden minnow, seminole finula, red sunfish, crayfish, threadfin shad, bluegill sunfish, gizzard shad , white bass, cracker, largemouth bass and striped bass can be found in abundance. However, the most famous resident of the lake is hands down the black crappie, also known as the speckled perch. Best caught in the winter, especially from December to April, crappie is sought after by anglers nationwide. It is important to note that all crabs under 10 inches must be released into the lake if caught to maintain a healthy colony. As for birds, more than 100 species can be found in the region, depending on the season. Most notable are the bald eagle, osprey, egrets and blue heron.
Tourism in the region
Although the lake is not ideal for swimming due to alligators and a muddy bottom, there is still plenty to do in and around the lake. With a small charge of $3/day, you can access the park and all it has to offer. An annual pass is provided for frequent visitors.
The park offers many activities such as boating, horseback riding, biking, hiking, bird watching, fishing, picnicking, and canoeing. Those not ready for physical exertion can find a spot on the observation deck and watch others spend their day on the lake. They may want oil if it's warm enough to work on their tan.
Freshwater fishing, however, is by far the biggest draw to visitors to the famous lake. All it takes is a simple tackle setup and a freshwater fishing license.
For those who wish to spend the day in a more relaxed setting, the park has a picnic area equipped with barbecues and tables, ideal for private parties, weddings and family reunions.
Whether you are visiting in cold or hot weather, you will always find something to do at Talquin Lake. Open all year round to visitors at a reasonable price. With many activities and amenities, Lake Talquin State Park is ideal for recreation and time away from the city. With Florida's many important sights to see, be sure to make time for Lake Talquin. You might even catch a trophy-worthy fish while you're at it!