A barrier island on South Carolina's Atlantic coast, Kiawah is a private beach and golf resort about 25 miles southwest of Charleston, the state's largest city. With a population of just under 1,800, according to 2019 estimates, Kiawah Island is well known for its eponymous Golf Resort. Its other attractions include various beaches, villas and other water activities.
Geography and Climate of Kiawah Island
Kiawah Island has a total land area of ​​35 square kilometers, of which 6.4 square kilometers or nearly 19% is water. A barrier island on the coast of the Atlantic Ocean, summers are known to be extremely hot on the island, while winters are short and windy. Between May and September, average daily highs are 28°C, with July being the hottest month of summer. ; highs for that month average 31°C, with lows of 24°C. Winter is considered to last from December to March, with highs of 19°C. January is the coldest month on average for Kiawah Island, with highs of around 17°C and lows of 7C. According to local weather guides, the best recommended time to visit Kiawah Island for moderate temperatures is from April to May or from September to October. The rainy season on Kiawah Island lasts from June to September. July is considered the wettest. Of the 31 days of the month, an average of 15 days has at least 1 millimeter of precipitation. November is the driest month, with only six out of 30 days showing a minimum of 1 millimeter of precipitation, while the dry season usually lasts between late September and June.
Brief History of Kiawah Island
Named after the indigenous Kiawah people, English settler and former pirate George Raynor first obtained Kiawah Island through a land grant in 1699. In 1701 he sold half the area to a another sea captain, while the other half was passed on to his descendants after his death in 1743. Used primarily for cattle ranching early in its history, during the American Revolutionary War (1775-1783), the village was also used as a place of recovery and refuge for soldiers and their family members. It was the Civil War (1861-1865), however, that had a greater impact on Kiawah Island. South Carolina was the first state to join the Confederacy, and during the war Kiawah Island was besieged by Northern troops and taken over. At that time, the island was maintained by the wealthy Vanderhorst family, and after the war they hired ex-slaves for labor, producing cotton on the land. The family maintained their administration of the area until the middle of the 20th century, when it was purchased by logging contractor CC Royal in 1950.
The island was then sold to the Kuwait Investment Corporation in 1974 and a real estate sales boom began. In 1976, the first golf course, Cougar Point, was opened. The Kiawah Island Golf Resort soon followed. The 1980s saw the island's continued growth and expansion, and a town also called Kiawah was officially established in 1988. The Kiawah Island Club opened in 1993, while other golf courses, including Ocean Course and Oak Point, were founded in 1991 and 1997, respectively. Today, Kiawah Island is full of golf courses, lodges, hotels and public beaches, making it a quiet and attractive place for many tourists.
Kiawah Island Attractions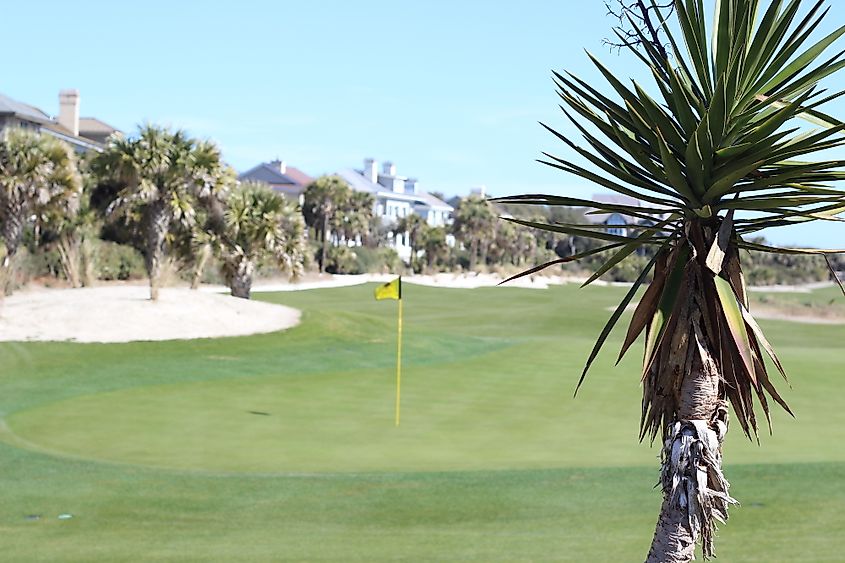 Considered one of the best golf destinations on the East Coast of the United States, Kiawah Island offers seven award-winning golf courses. Several of them were even designed by professional golf legends like Gary Player and Jack Nicklaus. The courses at Turtle Point, Ocean Course, Cougar Point, Oak Point and Osprey Point are owned and operated by Kiawah Island Golf Resort. The Ocean Course has hosted events like the 1997 World Cup of Golf and the 2012 and 2021 PGA Championships. For those not golf-inclined, Kiawah Island also offers a variety of other outdoor activities to tourists and their families.
Beachwalker County Park is located on the western end of the island and has been rated by several publications as one of the best public beaches in the United States. Kiawah Island has 30 miles of paved hiking trails and 10 miles of beach, providing residents and visitors with both beautiful settings for biking, walking and jogging. Any tourist to Kiawah Island will surely find kayaking, canoeing, and other water boating opportunities.
For the history-inclined visitor, Kiawah Island is home to two sites listed on the National Register of Historic Places; the Arnoldus Vander Horst House, a former plantation house built in 1802, is now a museum that highlights the history of the area and the island's record during the Civil War. The Bass Pond site is a site of archaeological digs that sheds light on the earth's geological history and the development of early human activities.
Kiawah Island is best known today for its renowned golf courses and oceanfront access to the Atlantic coast, but it also has, like so many small towns and homes in America, a unique history. From the Revolutionary War to the Civil War to the modern housing boom, Kiawah Island is a lesser-known spot on the American map, but a charming and enjoyable destination for anyone who chooses to visit.